Southwest Invasion Announces Katie Garibaldi In 2017 Lineup
Written by Andrew Braithwaite
Friday, 10 March 2017 10:01
The 2017 Southwest Invasion full lineup has been announced, featuring performances from Hanson, Kate Nash, Jamie Kent, The Aces, Katie Garibaldi, and more. RSVPs now open at http://www.SouthwestInvasion.com
"Held in Austin, TX as a complement to the South by Southwest Music and Media Conference, Southwest Invasion began as a music and experiential event in 2012. Over the past four years, it has grown into a three-day concert series and lifestyle village open to the public, hosted at the Whole Foods Market flagship stores rooftop and courtyard square. Southwest Invasion draws over 12,000 fans annually who come to watch more than 30 concerts by emerging and legacy bands as well as interact with goods and services developed by microenterprises and socially responsible brands.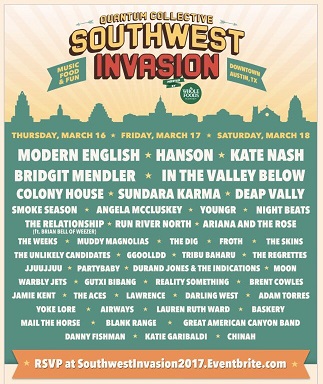 Since its inception, the event has earned a reputation for selecting bands and brands on the cusp of widespread success, including Imagine Dragons, the X Ambassadors and Pentatonix, whose careers broke through to the mainstream shortly after their performances. Similarly, innovative companies such as FitBit and Amazon MP3 took off not long after their introduction to Southwest Invasion audiences.
Previous Southwest Invasion concerts have featured performances by Imagine Dragons, The Lumineers, Capital Cities, Pentatonix, Kongos, X Ambassadors, A Great Big World, Mary Lambert as well as G Love, Matisyahu, Lisa Marie Presley, Suzanne Vega and The Zombies. Lifestyle partners at prior events include Amazon MP3, FitBit, Klean Kanteen, Lagunitas Brewing, Uber and True Organic.
Southwest Invasion is curated and produced by Quantum Collective, a consortium of music industry leaders including Liz Leahy, founder and CEO of Tech Company Section 101, and Dan Silver, VP of Creative at Riptide Music Group and longtime record producer of several well-known artists.
Importantly, the event benefits the Whole Planet Foundation and Quantum Collective is a partner with their Musicians for Microcrediu" program, which engages musicians to use their platform to alleviate global poverty." -SouthwestInvasion.com
Katie Garibaldi is a San Francisco native who is making a splash with her roots-inspired songwriting, tender vocals and rich arrangements.
Katie is fresh off winning some prestigious awards, including the LA Music Critics Award for Best Americana Artist. With accolades from the Indie Music Channel and write-ups in Guitar Player Magazine, Katie is a gifted singer/songwriter/guitarist who has fostered a devoted fan base through her nationally-touring shows.
Music Connection magazine says, Garibaldi is blessed with a sweet and pure soprano, and we hear a sincerity in this artist that is real.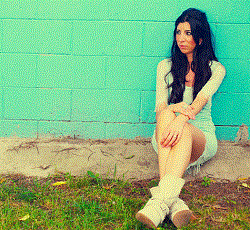 No Depression magazine, the most influential alt-country/folk publication in the country, had high praise for Katie in a recent column: Katie sings with vibrancy, hitting high notes even Joni Mitchell would appreciate. Her words, music and performance on Delightful are just that delightful. Backed by some purring violins and cello with a straight ahead melodic drive Katie packs a wonderful folky extravagance& This woman doesnt have to prove a thing to anyone she is a powerhouse driven by an intoxicating vocal tone. It reaches heights that are so easy on the ear that its a treat, a pleasure to listen to. The voice free of bombastic notes is just pure musicality.
Hanson, and Katie Garibaldi! Listen and follow to discover your favorites.